Integra Ri3 Digital Metering
General Details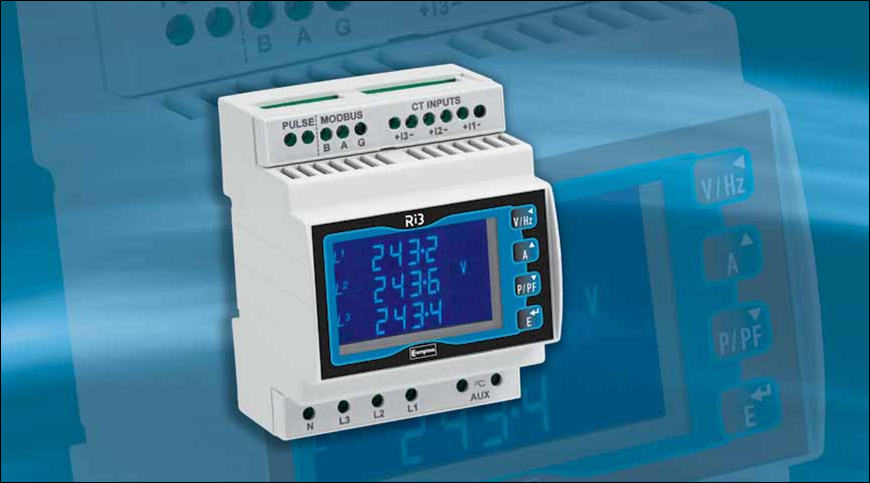 The Integra Ri3 Digital Metering System is a digital metering system (dms) offering an accurate and cost effective solution for measurement and display of all major electrical and power quality parameters. It's easy programming, mounting and user-friendly navigation make the Integra Ri3 dms an ideal choice for customers who require reliable energy measurement.
The Integra Ri3 Digital Metering System is built to high quality standards utilizing the latest microprocessor and manufacturing technology. Designed, developed and manufactured in the UK, the Integra Ri3 dms builds on Crompton Instruments' long established reputation for metering product quality.
The product features a DIN-rail enclosure, backlit LCD display and user programmable CT ratios, all accessible via an intuitive user interface. Integra Ri3 dms measures 17 electrical parameters including total harmonic distortion (THD) measurement up to the 31st harmonic. Units are IP52 rated (front protection rating), and IP30 rated (case protection rating).
Typical applications include building management, control panels, distribution systems, energy management, motor monitoring, process control, switchgear, and utility power monitoring.
The Crompton Instruments product range represents one of the largest product offerings of power measurement, control, and protection instrumentation, for switchgear and generator set manufacturers, panel builders and OEMs.
Crompton Instruments products offer proven reliability across a diverse array of industries including power generation, process control, test and measurement, utility, marine, defence and energy management applications. To meet the challenges of ever decreasing lead times and industry developments, design and manufacturing processes are constantly reviewed and updated.
By combining local knowledge with over 100 years of research, product development and manufacturing capabilities, Crompton Instruments products provide the highest standards of performance and user convenience.
 Features:
Backlit LCD screen
DIN-rail enclosure DIN 43880
Pulsed output and Modbus as standard
Programmable CT ratio
True rms measurement
User programmable system configuration
 Benefits:
Cost effective
Crompton renowned quality
Simple navigation
UK manufactured
Applications:
Standards:
IEC 61326
IEC 61010-1
IEC 62053-21
 Approvals: