Digital/Analog Combination Meters
General Details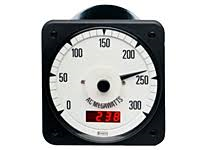 Digital/Analog Combination Meters designed by Crompton Instruments are a combination digital/analog panel meter in the Model 007-DI series featuring a combination of the traditional 250° 4 1⁄2″ switchboard indicator with the trend indication plus the benefits of wide angle LED visibility. These units are IP54 rated.
Digital/Analog Combination Meters have a rugged shock and vibration resistant design providing  precision accuracy and instantaneous reading via the bright in-dial mounted 3 1⁄2″ digit red LED display.
Features include bump, shock and vibration proof design. Cost effective design incorporating both analog and digital versions in one case. The units offer high accuracy, with a clear easily readable bright LED display. Units have input isolation. Also these units are easily interchangeable with standard 4.5 inch analog switchboard meters.
Features:
Bump, shock and vibration proof
Cost effective
Customized options and features
High accuracy LED display
Input isolation
Interchangeable with 4 1/2 inch switchboard meters
IP54 (NEMA 3) protection
Maximum trend indication visibility
Rugged shock and vibration resistant pivot and jewel design
Wide selection of AC and DC inputs
Applications:
Building Management
Control Panels
Distribution Systems
Energy Management
Generator Sets
Motor Control
Process Control
Switchgear
Utility Power Monitoring
Standards:
Approvals:
cUL E203000 (1 A ac to 10 A ac, 200 mv-300 v ac/dc)
Approvals
cUL E203000 (1 A ac to 10 A ac, 200 mv-300 v ac/dc)