General Details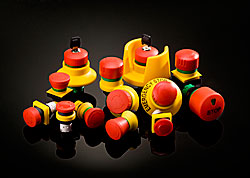 Schlegel manufactures a multitude of high quality Emergency Stop Buttons (e-stops). They are available in 16mm, 22mm or 30mm sizes.
Innovation. Quality. Design. That's what the name Schlegel stands for. Founded in 1945, a globally operating manufacturer of components for electrical and electronic controls, with headquarters in Germany and distributors in more than 80 countries on all five continents. Our core competences: Development and production of control units, panel mount jacks, RFID, bus systems, enclosures, terminal blocks, pedal switches, limit switches and customized solutions. Our customers particularly appreciate our flexibility and our professional know-how in the development of customized solutions for individual applications.
Made by Schlegel is inseparably linked to the hallmark "Made in Germany". Schlegel manufactures exclusively in Germany at the locations Dürmentingen and Leipzig. Schlegel distinguishes itself by a very high level of vertical integration. Most processes are performed in-house. This allows highest flexibility, for example, in the implementation of customized products and requirements. The quality policy at Schlegel is rounded off by many years of experience in dealing with the quality management according to ISO 9001-2015.
The user can choose from a wide range of TÜV certified e-stops by Schlegel and DUX for panel cut-outs of different shapes and dimensions (16mm, 22mm, 30mm) which can be combined with both, the standard and ASi contact units. The actuators are well known for their modern and attractive design combining mechanical robustness and outstanding functionality, featuring  a clearly visible switching position indicator, a twist release (in either direction) or pull release and tightness from IP65 to IP69K, depending on the model.
Features:
Anti-lock collars
Head size from 23mm-55mm
Illuminated collars
Illuminated heads
IP65-IP89 (Hygienic)
Key reset or key release
Position indicator
Twist to reset
SAFETY CONTACT BLOCKS:
For emergency stop buttons
Negligent assembly or a mechanical damage is always a possibility with pushbutton assemblies.  With emergency stop buttons, the contact block must be accurately connected or the button will not work as required. The safety contact blocks manufactured by Schlegel can solve this potential problem. In such a situation, they ensure that the emergency function is activated and the installation is switched off immediately. It can only be restarted after successful trouble-shooting. The contact blocks are available with screw connections or Faston terminals and have positive opening contacts acc.to IEC60947- 5-1.