General Details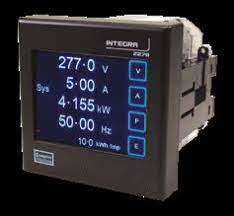 The new Integra 2270 Power Quality Meter from Crompton Instruments. The unit monitors the quality of the incoming electricity with a 0.2S% accuracy of reading. This provides companies with the knowledge and the information they need to make informed decisions on effective energy use.
How Does it Work?
The Integra 2270 can be installed on any electrical system, to provide information about energy consumption and its quality by monitoring three parameters:
1. Total Harmonic Distortion – the total distortion in the supply, caused by multiples of the base frequency up to the 63rd harmonic.
2. Waveform Capture – allows instantaneous events to be captured and analyzed offline using a computer.
3. Voltage Interference – known as 'sags and swells'. Variations in the voltage supply caused by non-linear loads, classified to BS EN 50160:2010.
The Integra 2270 Power Quality Meter is linked to a building management system during the installation process, and the parameters from the meter are fed directly into it, using any of the available communication protocols.
What are the Features?
With our next generation technology, we believe that there are four key features which are clear differentiators – all of which add value at each stage of the installation pipeline, both on-site and in the factory:
1. Full color touch screen display:
The energy-efficient touch screen display provides an intuitive user interface – with clear graphics and text, and simple navigation. This makes it easy for Field Engineers to set up and configure the device, reducing site time and saving money during installation.
2. Signal conditioning:                                                                                                                                                                          This patented* technology means that the meter can be configured to work with any electrical supply, regardless of voltage, in a single product – thus allowing easy unit replacement and minimal stocking.
3. Inputs and output
a. Pulsed inputs – pulses from water and gas meters can be connected into the Integra 2270 to provide a total measurement for all utilities in a single meter.
b. Pulsed outputs                                                                                                                                                                                              The Integra 2270 can be configured to provide outputs relating to active and reactive energy, and can communicate these to building management systems.
c. Alarms                                                                                                                                                                                                        Alarms can be configured for any measured parameter, and can also serve as a trip function. This eliminates the need for additional trip products.
4. Easy installation
a. Voltage and signal connections                                                                                                                                                          Plug and socket connectivity for easy installation of prewired looms. This saves valuable installation time and reduces wiring errors.
b. Direct CT connection                                                                                                                                                                          Current flows directly through the product from the primary CTs, which reduces the number of connections to the meter. With no need to wire the product to the electricity supply, both Field Engineers on site and Fitters will save time, reducing the cost of both manufacture and installation of distribution boards.
Watch a Video:
http://www.crompton-instruments.com/2270-video.html
Standards:
Approvals: