Shorting Style Terminal Blocks
General Details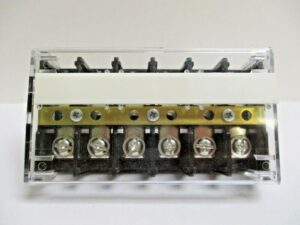 Shorting Style Terminal Blocks for Current Transformers are used to create an intermediate contact point between the meter and load where it is safe to perform wiring alterations.
Shorting Style Terminal Blocks are wired such that the negative leads of the current transformers are connected to the same node and tied to ground.
Typical applications are Control and Power wire transmission, CT Tap changing, and meter servicing.
Units come with a Standard Front Cover for enhanced safety, and available in either 4 or 6 or 8 pole configurations.
The Crompton Instruments product range represents one of the largest product offerings of power measurement, control, and protection instrumentation, for switchgear and generator set manufacturers, panel builders and OEMs.
Crompton Instruments products offer proven reliability across a diverse array of industries including power generation, process control, test and measurement, utility, marine, defence and energy management applications. To meet the challenges of ever decreasing lead times and industry developments, design and manufacturing processes are constantly reviewed and updated.
By combining local knowledge with over 100 years of research, product development and manufacturing capabilities, Crompton Instruments products provide the highest standards of performance and user convenience.
Features:
4, 6, 8 pole configurations
4, 6, and 8 pole shorting style available 4 "on board" slotted head shorting screws
#10-32 tin plated slotted washer head terminals screws
Covers included as standard
Marking strip provided (on the cover for shorting style blocks)
Rugged chip resistant heavy duty construction
Surface mounting flat base for direct one piece terminal block replacement
Wide brass terminals allow lugs up to 1/2″ in width
Wire size – copper 18-10 AWG
UL recognized 105 degree C. thermoplastic body material
UL & cUL recognized (E241554)
Applications:
Ratings:
30 Amp w/ bare wire
50 Amp w/ crimp type lug
300 V AC Shorting Style
Approvals: