General Details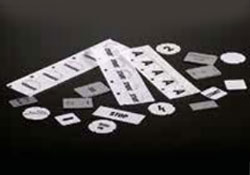 Schlegel has a large variety of standard nameplates for use with their push buttons, pilot lights and self-adhesive units.  Special custom markings are available as required. Please see attached spec for a complete listing.
Schlegel also carries Contact Blocks, Emergency Stop Buttons, Pushbuttons, and Terminal Blocks.
Innovation. Quality. Design. That's what the name Schlegel stands for. Founded in 1945, a globally operating manufacturer of components for electrical and electronic controls, with headquarters in Germany and distributors in more than 80 countries on all five continents. Our core competences: Development and production of control units, panel mount jacks, RFID, bus systems, enclosures, terminal blocks, pedal switches, limit switches and customized solutions. Our customers particularly appreciate our flexibility and our professional know-how in the development of customized solutions for individual applications.
Made by Schlegel" is inseparably linked to the hallmark "Made in Germany". Schlegel manufactures exclusively in Germany at the locations Dürmentingen and Leipzig. Schlegel distinguishes itself by a very high level of vertical integration. Most processes are performed in-house. This allows highest flexibility, for example, in the implementation of customized products and requirements. The quality policy at Schlegel is rounded off by many years of experience in dealing with the quality management according to ISO 9001-2015.
The Crompton Instruments product range represents one of the largest product offerings of power measurement, control, and protection instrumentation, for switchgear and generator set manufacturers, panel builders and OEMs.
By combining local knowledge with over 100 years of research, product development and manufacturing capabilities, Crompton Instruments products provide the highest standards of performance and user convenience.
Blank nameplates can be ordered as follows:
Series

Part Number
OKTRON
BSOKU
OKTRON R
BSRXU
RX
BSRXU
QUARTRON
BSQXU
QUARTRON-L
BSLXU
RONTRON-R
BSRRU
RONTRON-RJ
BSRRU
RONTRON-Q JUWEL
BSRRU
RX JUWEL
BSRXU
RONDEX
BSRXU
RONDEX-M
BSRXU
DUX
BSKU
QUARTEX-R
BSRXU
KOMBITAST-R
BSKU
KOMBITAST-R-JUWEL
BSKJU
OKTRON JUWEL
BSOKJU
QUARTRON JUWEL
BSQXU
QUARTRON-L JUWEL
BSLXU
QUARTEX-R JUWEL
BSKU
Approvals
none (as not electrical equipment ,solely product labels)