General Details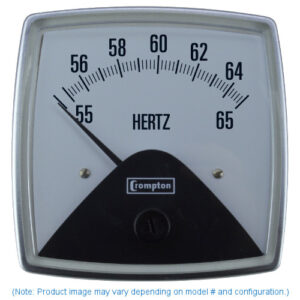 Analog Frequency Meters in the Model 016 Fiesta 3.5 inch series offer superior IP55 protection which can withstand high levels of shock, vibration, dirt, and humidity.
Analog Frequency Meters come with a standard crimped Silver Bezel and offer a contoured window with a large viewing angle. Frequency measurement is either 50 or 60 or 400 Hz.
Accuracy is very high with 0.15 % (50 Hz center frequency),  0.25 % (55 Hz center frequency), 0.15% (60 Hz center frequency), or 1.25% (for 400 Hz center frequency).
Options include a Panel Gasket, or Terminal Boots for protection of back terminals. Units have cRU approval.
Typical applications include Building management, control panels, distribution systems, energy management, generator sets, motor control, process control, switchgear, and utility power monitoring.
Advantages are easy to install. Models have only two terminals to connect. There are no configuration settings or setup menus to complicate the installation. Analog frequency units do not require external power.
The Crompton Instruments product range represents one of the largest product offerings of power measurement, control, and protection instrumentation, for switchgear and generator set manufacturers, panel builders and OEMs.
Crompton Instruments products offer proven reliability across a diverse array of industries including power generation, process control, test and measurement, utility, marine, defence and energy management applications. To meet the challenges of ever decreasing lead times and industry developments, design and manufacturing processes are constantly reviewed and updated.
By combining local knowledge with over 100 years of research, product development and manufacturing capabilities, Crompton Instruments products provide the highest standards of performance and user convenience.
Features:
50 or 60 or 400 Hz measurement
IP55 protection
Panel Gasket (optional)
Silver Bezel crimped
Terminal Boots (optional)
Applications:
Standards:
Approvals: