Digital/Analog Combination Meters
General Details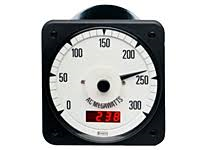 Digital/Analog Combination Meters designed by Crompton Instruments are a combination digital/analog panel meter in the Model 007-DI series featuring a combination of the traditional 250° 4 1⁄2″ switchboard indicator with the trend indication plus the benefits of wide angle LED visibility. These units are IP54 rated.
Digital/Analog Combination Meters have a rugged shock and vibration resistant design providing  precision accuracy and instantaneous reading via the bright in-dial mounted 3 1⁄2″ digit red LED display.
Features include bump, shock and vibration proof design. Cost effective design incorporating both analog and digital versions in one case. The units offer high accuracy, with a clear easily readable bright LED display. Units have input isolation. Also these units are easily interchangeable with standard 4.5 inch analog switchboard meters.
The Crompton Instruments product range represents one of the largest product offerings of power measurement, control, and protection instrumentation, for switchgear and generator set manufacturers, panel builders and OEMs.
Crompton Instruments products offer proven reliability across a diverse array of industries including power generation, process control, test and measurement, utility, marine, defence and energy management applications. To meet the challenges of ever decreasing lead times and industry developments, design and manufacturing processes are constantly reviewed and updated.
By combining local knowledge with over 100 years of research, product development and manufacturing capabilities, Crompton Instruments products provide the highest standards of performance and user convenience.
Features:
Bump, shock and vibration proof
Cost effective
Customized options and features
High accuracy LED display
Input isolation
Interchangeable with 4 1/2 inch switchboard meters
IP54 (NEMA 3) protection
Maximum trend indication visibility
Rugged shock and vibration resistant pivot and jewel design
Wide selection of AC and DC inputs
Applications:
Standards:
Approvals:
cUL E203000 (1 A ac to 10 A ac, 200 mv-300 v ac/dc)
Approvals
cUL E203000 (1 A ac to 10 A ac, 200 mv-300 v ac/dc)