Integra 1222 Multifunction Meter
General Details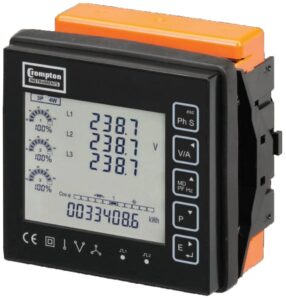 INTEGRA 1222 DIGITAL METERING SYSTEM
The Crompton Instruments INTEGRA 1222 digital metering system (dms) from TE Connectivity enables a cost effective solution for the measurement and display of all electrical parameters including total harmonic distortion (THD) and individual, up to the 63rd harmonic.
Display:
High definition screen features programmable backlight for high contrast visibility in low light and direct sunlight applications. The light can be programmed to automatically dim after set period of time for energy saving.
New "petal" array icons shows the percentage of full scale power of the measured system and the instantaneous PF measurement gives clear PF indication. Total power consumption is displayed on the screen at all times.
Q2C Wiring Solution:
INTEGRA 1222 dms and the 3-in-1 current transformers feature Q2C wiring solution for simple yet fast installation utilizing plug and socket connections and pre-cut wiring looms, which allow to reduce assembly time and connection errors. IN-OUT voltage connections reduce wiring and installation time.
Communication:
Modbus RTU (RS485) is available on all models. Two pulsed outputs available on self powered only.
Enclosure and System:
The DIN 96 panel mounted enclosure includes integral panel mounting clips for quick and easy fitting and to suit user requirements, the range includes single-phase, three-phase three-wire and three-phase four-wire capability, all selectable at the point of installation.
Features:
Accuracy to 0.5S%
Backlit LCD screen
CT current measurement 5A/1A
DIN 96 enclosure
Individual harmonics to 63rd
Internal product heath check
Non-volatile memory 1MB
Plug and socket connections
Programmable VT, CT ratios
Voltage IN-OUT connections
Applications:
Commercial Buildings Disclosures
Greenstar Energy Management
Nabers
National Construction Code (NCC)
Standards:
BS EN 61326-1:2013
BS EN 62052-31:2016
IEC BS EN 61010-1:2010
IEC 62053-22 Class 0.5S
IEC 62053-24 Class 0.5S
Approvals:
Pictures