Synchroscopes Digital LED
General Details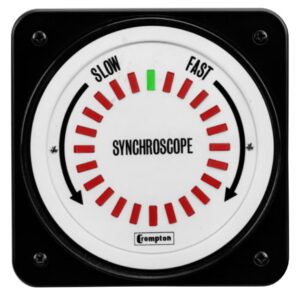 AC Synchroscopes Digital LED style manufactured by Crompton Instruments in the UK featuring a 4.5 Inch size, incorporating a high quality bright LED readout, and 360 degree large viewing angle for easy viewing.
AC Synchroscopes Digital LED style are available as a Synchro-Check Relay, or Synchro-Check Relay with Dead Bus Feature, or as a standard synchroscope.  Available in 120 v, or 240 v, or 480 v input. Frequency 40 to 65 Hz. These units are IP54 rated.
If strictly an analog version synchroscope is required, then model 007-14 is readily available as a standard stocked item.
These units measure and display the frequency difference of two power sources. Monitoring the display allows the user to connect two synchronized AC power systems together. This can help prevent the potential damage caused by connecting two unsynchronized power sources.
Twenty four (24) red LEDs are arranged in a ring simulating the traditional 360 degree analog movement. Only one LED is lit at any one time indicating the phase difference between the busbar (BUS) and generator (GEN) signals. This phase difference is calculated by measuring the time difference between zero crossing points of the two signals and comparing it with the time period of the BUS signal. This means that the unit will operate correctly at any frequency within its range.
The Crompton Instruments product range represents one of the largest product offerings of power measurement, control, and protection instrumentation, for switchgear and generator set manufacturers, panel builders and OEMs.
Crompton Instruments products offer proven reliability across a diverse array of industries including power generation, process control, test and measurement, utility, marine, defence and energy management applications. To meet the challenges of ever decreasing lead times and industry developments, design and manufacturing processes are constantly reviewed and updated.
By combining local knowledge with over 100 years of research, product development and manufacturing capabilities, Crompton Instruments products provide the highest standards of performance and user convenience.
Features:
Phase difference indication
Precision LED Synchroscope
Semi-automatic synchronizing
Synchronizing between generators or with existing busbar
Visual indication of 'GEN'  and 'BUS' level
Voltage difference indication
Voltage & phase synchronized relay
Voltage/phase angle & time delay controls
Applications:
Approvals: