General Details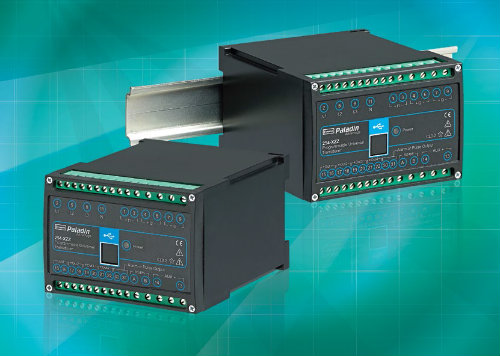 Universal Transducers offered in the Paladin Advantage 254-XZZ model. These units offer a programmable transducer which provides measurement isolation and conversion of all main electrical parameters into an industry standard DC output signal.
The 254-XZZ has an accuracy of CL0.2 and includes RS485 Modbus RTU communications protocol and pulse/alarm output as standard and can be used in single and three-phase balanced or unbalanced three or four-wire electrical systems.
Universal Transducers offer high accuracy for the conversion of all main electrical parameters into a Voltage or mA output and provides measurement, isolation and conversion of up to four user defined inputs and outputs. The device is supplied programmed to the users requirements but can be easily be reprogrammed to suit any application.
Designed, developed and manufactured in the EU, with integrated microprocessor for exceptional waveform handling of distorted waveforms. The 254-XZZ is ideal for low, medium and high voltage applications and provides a high protection against continuous and short circuit protection as well as galvanically isolated inputs and outputs.
The Crompton Instruments product range represents one of the largest product offerings of power measurement, control, and protection instrumentation, for switchgear and generator set manufacturers, panel builders and OEMs.
Crompton Instruments products offer proven reliability across a diverse array of industries including power generation, process control, test and measurement, utility, marine, defence and energy management applications. To meet the challenges of ever decreasing lead times and industry developments, design and manufacturing processes are constantly reviewed and updated.
By combining local knowledge with over 100 years of research, product development and manufacturing capabilities, Crompton Instruments products provide the highest standards of performance and user convenience
Features:
Alarm/pulsed output
DIN-rail enclosure
Measurement, isolation and conversion of up to 4 parameters
Programmable VT/CT ratio
RS485 Modbus RTU protocol
True RMS measurement
User programmable configuration
Benefits:
0.2 accuracy
Cost effective
EU manufactured
Fully configurable
Modbus communications
Applications:
Standards:
IEC 61326
IEC 61010-1
IEC 62053-21
EN60688
RoHS Compliant
Approvals: