General Details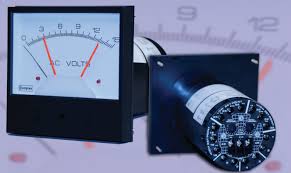 Analog Meter Relays in the model 239 series combine a highly accurate indicator with High and Low set point relays. The relays can operate alarm and control devices when the monitored signal value moves outside the chosen set point limits shown by adjustable red index pointers.
Analog Meter Relays have a single compact case that houses the unit which requires only the input signal and power supply thus saving space and installation time. These units are IP50 rated for the enclosure.
Advantages are an isolated input signal, LED relay status indicators, and a stable electronic switching circuit which does not use outdated lamps, photocells, inductors or capacitors. These units are rugged, shock and vibration resistant in design, and are used for Frequency monitoring, High & Low alarms, Liquid level control, Load shedding, Power factor correction, shutdown applications, and temperature indication and control.
The Crompton Instruments product range represents one of the largest product offerings of power measurement, control, and protection instrumentation, for switchgear and generator set manufacturers, panel builders and OEMs.
Crompton Instruments products offer proven reliability across a diverse array of industries including power generation, process control, test and measurement, utility, marine, defence and energy management applications. To meet the challenges of ever decreasing lead times and industry developments, design and manufacturing processes are constantly reviewed and updated.
By combining local knowledge with over 100 years of research, product development and manufacturing capabilities, Crompton Instruments products provide the highest standards of performance and user convenience.
Features:
Class 1.5 Accuracy
Control function continues if the indicator becomes damaged
Finger knob set-point adjusters (optional)
Isolated input signal
LED relay status indicators
Panel Mounting Gasket (optional)
Rugged, shock and vibration resistant design
Stable electronic switching circuit does not use lamps, photocells, inductors or capacitors
Applications:
Standards:
EN 60058-2-29
EN 60068-2-6
EN 60068-2-27
  Approvals:
none (due to design complexity)(competitor's models also have no approvals)
Approvals
none (due to design complexity)(competitor's models also have no approvals)