Ground Fault Current Transformers
General Details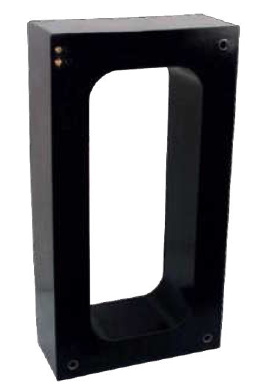 Ground Fault Current Transformers (CTs) are a window type ground fault sensor used to sense Zero Sequence Ground Fault Currents. These current transformers are also known as core balanced current transformers (CBCT). These units detect the presence of zero sequence currents during short circuit fault conditions such as the occurrence of a single line to ground fault that causes unbalanced currents in three-phase systems.
Ground Fault Current Transformers require that all three phases and the neutral (in the case of a four wire system) be placed through the window of a single current transformer. Under normal conditions the current transformer will not see any current as the sum of a balanced three phase system is zero thus the name "Zero Sequence". In as much as all three phases and neutral (if there is one) must pass through the same window. This requires a current transformer with a  large window to accommodate all of the conductors.
During abnormal operations, the occurrence of a single phase to ground fault causes current imbalances in the three phases and with the vector sum of the phase currents not equal to zero, magnetic flux is generated in the core of the zero sequence current transformer and causes current flow to be detected by the ground fault relay.
All units listed here are rated at 600 V but can be used on higher voltages with fully insulated cables. Please note that when a low voltage window type CT is used in a higher voltage application, it is the end user's responsibility to ensure operating conditions are met and necessary precautions are taken.
A Current Transformer (CT) is a type of transformer that is used to reduce or multiply an alternating current (AC). It produces a current in its secondary which is proportional to the current in its primary.
Current Transformers, along with voltage or potential transformers, are instrument transformers. Instrument transformers scale the large values of current to small, standardized values that are easy to handle for measuring instruments and protective relays. The Instrument transformers isolate measurement or protection circuits from the high voltage of the primary system. These units provide a secondary current that is accurately proportional to the current flowing in its primary, presenting a negligible load to the primary circuit.
These units are the current sensing units of the power system and are used at generating stations, electrical substations, and in industrial and commercial electric power distribution.
Advantages of Current Transformers are that the units can measure high current easily, high electrical isolation, simple construction, and easy maintenance and installation.
Features:
Different ratios available
Variety of Window Openings
Applications:
Approvals: