Base Mounted Shunts Lightweight
General Details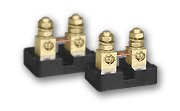 Base Mounted Shunts Lightweight type available with a range from 5 to 1200 Amps DC. Standard output of either 50 mv DC or 100 mv DC available, or custom outputs are available as requested.
Base Mounted Shunts Lightweight type offer high accuracy at +/- 0.25 % and are very lightweight at 0.6 lbs each.
Typical applications include battery chargers, electroplating, heavy industry, mining, solar generators, and wind power.
Available options include Certificates of Calibration or Certificates of Conformance, if required.
Advantages of Direct current (DC) instrument shunts are that the units are used to extend the range of ammeters whenever the current to be measured is too large to be passed through the instrument–usually currents over 50 amperes. The DC shunt, therefore, is a diverter which is used to "shunt" the majority of the current around the indicating instrument. Essentially, the DC shunt is a specially-designed resistor which delivers a millivolt output (to a millivolt meter or instrument) in proportion to the current flowing through the resistor.
The Crompton Instruments product range represents one of the largest product offerings of power measurement, control, and protection instrumentation, for switchgear and generator set manufacturers, panel builders and OEMs.
Crompton Instruments products offer proven reliability across a diverse array of industries including power generation, process control, test and measurement, utility, marine, defence and energy management applications. To meet the challenges of ever decreasing lead times and industry developments, design and manufacturing processes are constantly reviewed and updated.
By combining local knowledge with over 100 years of research, product development and manufacturing capabilities, Crompton Instruments products provide the highest standards of performance and user convenience.
Features:
Accuracy +/- 0.25 %
Extending measurement of currents beyond available limits of self-contained DC ammeters
Output 50 mv DC or 100 mv DC or custom
Applications:
Approvals:
None (DC Shunts cannot have any approval as they are not Stand Alone Units- they must be used together with a Meter)                                                                                                            
Approvals
None (DC Shunts cannot have any approval as they are not Stand Alone Units- they must be used together with a Meter)